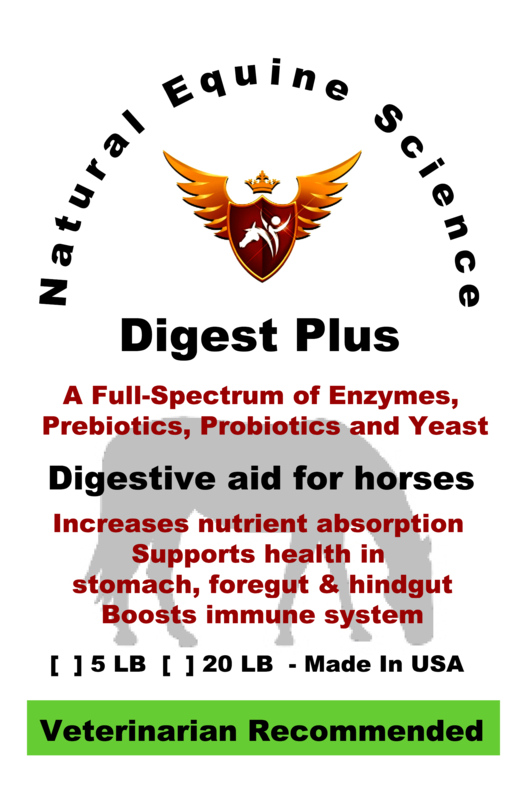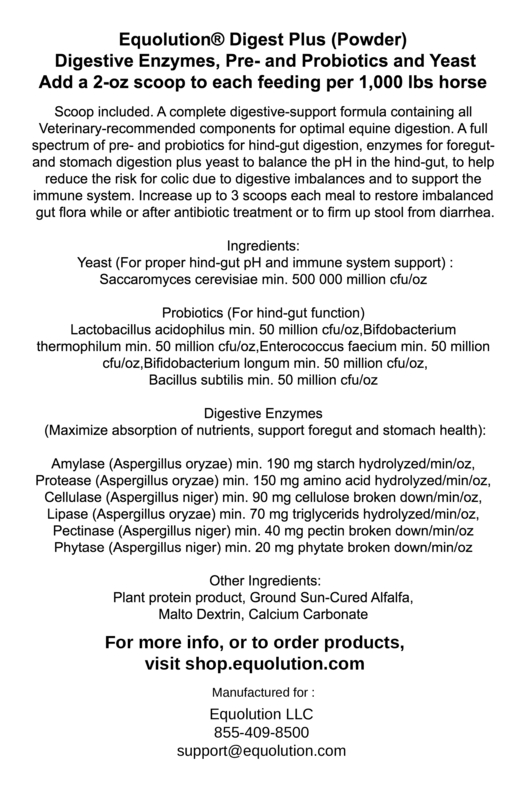 Veterinarian-designed, FEI- and USEF safe, low-starch, low-sugar complete digestive support for horses.

Support for the equine stomach, foregut and hindgut. Increases absorption of nutrients from hay and bucket feed by 30-40 percent.
Clinical potency, 2 products in one, enzymes plus pre- and probiotics. Scroll down for a 2 min. educational video.

5 lbs bag = 40 feedings

Use Digest Plus to:
Get all your good feed and supplements absorbed and not wasted in the manure. Utilization of nutrients requires the presence of digestive enzymes, which are normally found only in green and fresh feed that horses find in the wilderness. Horses cannot make enzymes in their body in the amount it is required for proper digestion. This is why so many horses have gastro-intestinal problems. Domesticated horses have no chance to get access to sufficient enzymes unless they are added to the daily feed.
Digest Plus helps to:
Balance digestion in the whole digestive tract, stomach, foregut and hindgut
Reduce risk for colic, gas, diarrhea and ulcers
Calm a horse. Calm gut, calm horse
Increase essential nutrient absorption and therefore increases health and wellbeing
Increase weight on hard keepers
The pure daily Digestive Aid Product, which can be fed in addition to any existing supplementation. A 2-in-1 combo product, for the price of one.
Consists of a full-spectrum of encapsulated live* probiotics, prebiotics, enzymes and brewer's yeast. Has shown to aid in prevention of certain colic types.

Daily digestive aid, nutrient and -absorption booster as well as fore- and hindgut balancer.

Contains a full-spectrum of probiotics, enzymes and live yeast to balance hind-gut pH and to boost the immune system.
Can be fed in addition to any existing Vitamin supplementation.
USE: Add a 2 oz scoop full per 1,000 lbs horse to each concentrate feeding.
To combine Vitamin-and Minerals with the ingredients in this product, use the Daily GI Combo instead.
Form: Powder
Back label: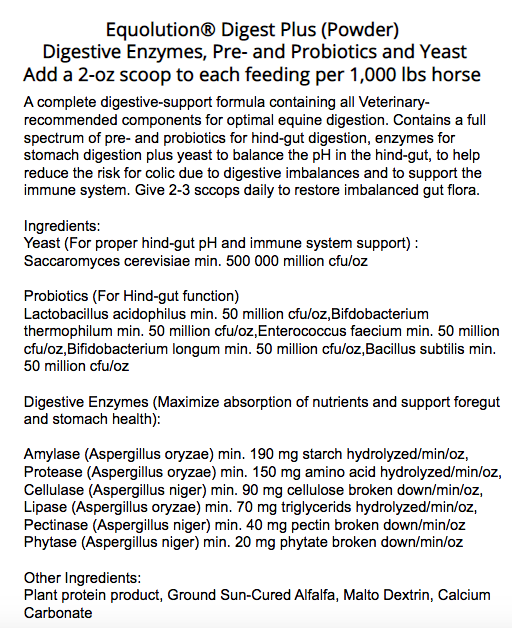 See what our expert has to say about enzymes for horses:
Product
Packaging
Bag
Formulation
Powder
X Days Supply
40
Item Number
LA5/DP
Digest Plus Probiotics and Enzymes 5 lb
Product Code: Digest Plus 5 lb
Availability: In Stock
Related Products
Tags: Digestion